The Polecats
Seit den späten Siebzigern spielen sie bereits zusammen aber sind noch heute so frisch wie damals. Insbesondere Frontman Tim Polecat lässt bei den Liveauftritten keinen Stein auf dem anderen und Gitarrist Boz Boorer garantiert für virtuoses Spiel auf den 6 Saiten.
Speziell ihr Album "Polecats are go" steht wie kaum ein anderes für die Neorockabilly Geschichte der frühe Achtziger Jahre und ist bis heute ein gern gehörter Klassiker. Rockabilly Guy, John I'm only dancing, Big Green Car und viele andere Hits bringen jedes Publikum zum Toben.
Auf dem Berlin Shake werden sie als Headliner am Freitagabend einen furiosen Abschluss liefern.
---
They have been playing together since the late seventies but are still as fresh as they were then. Frontman Tim Polecat in particular does not miss a single penny on the live performances and guitarist Boz Boorer guarantees a virtuoso performance on the 6 strings.
Especially their "Polecats are go" album is like no other for the neo-rockabilly history of the early eighties and is still a much-loved classic. Rockabilly Guy, John I'm Only Dancing, Big Green Car and many other hits make every audience romp.
At the Berlin Shake, they will headline Friday night for a furious finish.
Ike and the Capers
Gegründet in Berlin als Trio im Jahre 1994 verstärkten sie sich zu ihren ersten Plattenaufnahmen  mit einer Dame am Schlagzeug und spielten in dieser Formation bis ins neue Jahrtausend hinein.
Aufgrund ihrer großer Leidenschaft – Elvis Presley – haben sie sich nunmehr auf ihre "Elvis, Scotty and Bill – Show" spezialisiert, mit der sie regelmäßig wieder als Trio auftreten.
Auf dem Berlin Shake werden sie hingegen zum ersten Mal seit langer Zeit wieder als Quartett auf der Bühne stehen und ihre eigenen Hits mit Schlagzeug spielen!
---
Founded in Berlin as a trio in 1994, they reinforced their first recordings with a female drummer and played in this formation into the new millennium.
Because of their great passion – Elvis Presley – they have nowadays specialized in their "Elvis, Scotty and Bill Show", with which they perform regularly as a trio again.
At the Berlin Shake, on the other hand, for the first time in a long while they will again be on stage as a quartet and play their own hits … with drums!
Lily Locksmith
Lily Locksmith aus Schweden betrat Mitte der 2000er Jahre erstmals die Bühne, damals noch unter dem Namen Lily Mae. Dabei war sie auch als Gast vieler großartiger Acts wie Mike Sanchez und den Domestic Bumblebees zu sehen.
Nachdem bei ihr jedoch Krebs diagnostiziert worden war, musste sie alles auf Eis legen und es folgten harte Jahre. Ihr Traum, auf der Bühne zu stehen und zu singen motivierte sie dabei die ganze Zeit und im Jahr 2013 wurden ihr erfolgreich Stammzellen transplantiert.
Lily Locksmith & ihre Band sind bereit, mit ihrer Rhythm'n'Blues orientierten Musik die Welt auf den Kopf zu stellen. Inspiriert wird sie von Ikonen wie Ruth Brown, Big Mama Thornton & Etta James sowie neuen Künstlern wie JD McPherson.
---
Lily Locksmith from Sweden first entered the stage in the mid 00's, back then in the name of Lily Mae. She appeared as a guest with many fine acts like Mike Sanchez and the Domestic Bumblebees amongst others.
After being diagnosed with Cancer she was forced to put everything on hold and a tough couple of years followed. Her dream to stand on stage and sing motivated and kept her going all this time and in 2013 she successfully made a transplant of her stem cells.
Lily Locksmith & her band are ready to turn the world upside down with their Rhythm'n'Blues oriented music. She draws inspiration from icons such as Ruth Brown, Big Mama Thornton & Etta James as well as new artists like JD McPherson.
Smalltown Casanovas
Die Smalltown Casanovas sind vier Jungs aus München, die 2007 zusammen kamen und sich der American Roots Music verschrieben haben. Mit einer guten Mischung aus 50s Rock'n'Roll, Roadhouse, Rhythm'n'Blues, viel Country und einigen Rockabilly und Ska Einflüssen rocken sie die Clubs und Festivals.
Ihr Debütalbum "A Little Guitar Ride" erschien im September 2008 auf Rhythm Bomb Records. Vor kurzem haben sie ihre neue EP auf Witchcraft International veröffentlicht und beim Berlin Shake 2019 werden sie der Opening Act sein! Auf keinen Fall verpassen!
---
The Smalltown Casanovas are a hot 4-piece band from Munich, Germany that got together 2007 and really goes for American Roots Music. With a good mixture of 50s Rock'n'Roll, Roadhouse, Rhythm'n'Blues, lotsa Country and some Rockabilly and Ska influences they are rocking the clubs and festivals.
Their debut album "A Little Guitar Ride" appeared in September 2008 on Rhythm Bomb Records. They recently released their new EP on Witchcraft International and they will be the opening act at the Berlin Shake in 2019. Don't miss this!
Mike Sanchez
Mit Mike Sanchez endet der zweite Abend beim Berlin Shake und mit ihm haben wir einen ganz großen Performer auf unserer Bühne. Mit sechsköpfiger Begleitband wird die gute Laune Einzug in den Heimathafen halten und insbesondere für die Tänzer unter euch wird Mike sicher das Highlight an diesem Wochenende sein.
Der britische Sänger, Pianist und Gitarrist ist einer der aufregendsten und charismatischsten Künstler des Rhythm'n'Blues und Rock'n'Rolls in der heutigen rockin' scene. Als frenetischer Frontmann, der in seinem triefenden Anzug kraftvollen Boogie-Woogie vom Piano pumpt, hat er Fans auf der ganzen Welt und viele berühmte Rock- und Blues-Legenden haben schon mit ihm zusammengespielt.
---
With Mike Sanchez the second evening ends at the Berlin Shake and with him we have a great performer on our stage. With a six-headed band the good mood will find its way into the Heimathafen and especially for the dancers among you Mike will surely be the highlight of this weekend.
The British singer, pianist and guitarist is one of the most exciting and charismatic performers of Rhythm'n'Blues and Rock'n'Roll in today's rockin' scene. His indelible image as a frenetic front man, pumping powerful boogie-woogie from the piano in a soaking suit, has won him fans from all over the world and attracted a following from many famous rock and blues legends who have lined up to work with him.
Riley McOwen & the Sleazy Rustic Boys
Diese Band ist ein ganz besonderer Act. Riley McOwen und die Sleazy Rustic Boys sind vielleicht einer der einflussreichsten Rockabilly-Exporte aus Schweden.
Alles begann mit ihrer ersten Single, die sie 1991 auf Booze Records veröffentlichten. 1994 erschien ihr Debütalbum auf Tail Records, das zu einem Klassiker in der authentischen Rockabilly-Szene wurde.
Nachdem es längere Zeit ruhig um die Band geworden war, feierten sie im Jahre 2017 ein furioses Comeback auf dem High Rock-A-Billy Festival und ihr Weg bringt sie nun auch endlich in die deutsche Hauptstadt.
---
This act is a very special thing. Riley McOwen & the Sleazy Rustic Boys are maybe one of the most influential Rockabilly exports from Sweden. It all started with a little 45 they put out on Booze Records in 1991. In 1994 they released their full length album on Tail Records which became a classic in the authentic rockabilly scene.
After quieting the band for a long time, they celebrated a furious comeback in 2017 at the High Rock-A-Billy Festival and their journey finally brings them to the German capital.
Roy Dee & the Spitfires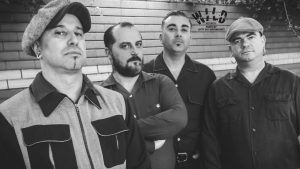 Eine neue portugiesisch / spanische Rockabilly Combo, die den weltberühmten Wild Records Sound zum Berlin Shake bringt.
Drei Portugiesen und ein Spanier haben sich im Sommer 2016 zusammengetan, um ihren rauen und wilden Sound zu kreieren, der vom 50s Rockabilly beeinflusst wird. Dabei spielte Sänger Roy Dee mit Gitarrist Oscar Gomes bereits in einigen bekannten Bands wie den Mean Devils und den Texabilly Rockets zusammen.
Nach ihrer Debüt 45 "I got Demons" wird in Kürze auch ihr erstes Album, ebenfalls auf Wild Records, erscheinen.
---
A new 4 piece Portuguese/Spanish Rockabilly combo, bringing the world famous Wild Records sound to the Berlin Shake.
Three members from Portugal and one from Spain got together on the summer of 2016 to create this raw & wild sound influenced by the 50's Rockabilly.
Roy Dee is the group's main founder and leads the vocals. Roy and Oscar Gomes with his wild guitar play together in some well-known bands as The Mean Devils and The Texabilly Rockets, so they asked Ruben El Pavoni to join them on the UpRight Bass as well as Jesus Lopez an old friend from Spain to play drums.
First they recorded a 5 original track demo CD to show the world what they will bring to the rockin' scene. Then they put out their debut 7" and very soon they will release their first album for Wild Records USA.
Desperado 5
Seit 1993 spielen die 5 Jungs aus Berlin ihre explosive Mischung aus Rockabilly & Rhythm'n'Blues im wilden Sound der 50's – von ihnen selbst als Red Hot Rock'n'Roll bezeichnet.
Der für die Band typische Sound ergänzt sich heute mit Einflüssen aus Country und early 60's Instrumentals und behält dabei doch immer den eigenen unverwechselbaren Charakter.
Wieder mit dabei am Gesang ist Wayne Starday, der nach einer kurzen Auszeit wieder mit dem Rest der Band aktiv ist und am Samstag die zweite Runde einläuten wird.
---
Since 1993, the 5 guys from Berlin play their explosive mixture of Rockabilly & Rhythm'n'Blues in the wild sound of the 50's – referred to by them as Red Hot Rock'n'Roll.
The typical sound of the band is complemented today by influences from country and early 60's instrumentals while still maintaining its own distinctive character.
After a short break former singer Wayne Starday is back on vocals and will be the starter of the second round on Saturday night.
Barrence Whitfield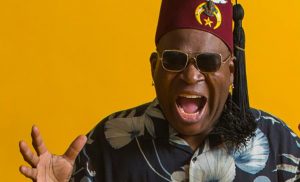 Wenn es um wirklich wilden Rock'n'Roll geht, kommt man an Barrence Whitfield nicht vorbei. Zusammen mit seiner Band, den Savages, hat er so einige Club Hits gelandet, die von keinem Record Hop wegzudenken sind – z.B. Bloody Mary oder Stop twistin' my Arm, um nur zwei zu nennen.
Mit seinen in den Achtziger Jahren veröffentlichten Alben hat er für Meilensteine gesorgt, die bis heute wegweisend für obskure Soul und R'n'B Songs sind. Das heißt aber nicht, dass er sich auf seinen Lorbeeren ausruht, im Gegenteil, bis heute hat er insgesamt 12 Alben veröffentlicht, das letzte gerade erst in diesem Jahr.
Auf dem Berlin Shake wird er von den Round Up Boys begleitet, für höchste Qualität hinter dem Frontmann ist also ebenfalls gesorgt.
---
When it comes to really wild Rock'n'Roll, you cannot get past Barrence Whitfield. Together with his band, the Savages, he has landed so many club hits that are indispensable to any record hop – e.g. Bloody Mary or Stop twistin 'my arm, just to name two.
With his albums released in the eighties, he has created milestones that are still groundbreaking for obscure soul and R'n'B songs. That does not mean that he is resting on his laurels, on the contrary, to date he has released a total of 12 albums, the last just this year.
At the Berlin Shake he is accompanied by the Round Up Boys, so for highest quality behind the front man is also taken care of.
Joakim Tinderholt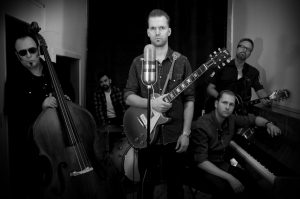 Joakim Tinderholt und seine Band kommen aus Norwegen und ist dort eine richtig große Nummer wenn es um Rhythm'n'Blues und Rock'n'Roll geht. Bereits 2005 gegründet veröffentlichte er 2014 sein Debutalbum und erfuhr damit schon eine Menge Aufmerksamkeit, insbesondere durch den Hit "I got loaded".
Durch sein zweites Album, erschienen auf Rhythm Bomb Records im Jahre 2017 wurde dann auch die europäische Rockin' Scene verstärkt auf ihn aufmerksam und so einige Festivalauftritte folgten.
Nun führt ihn sein Weg also auch erstmals nach Berlin und wir können uns auf eine fulminante Show des exzellenten Entertainers freuen.
---
Joakim Tinderholt and his band are from Norway and are a real big name there when it comes to Rhythm'n'Blues and Rock'n'Roll. Founded in 2005, he released his debut album in 2014 and has already received a lot of attention, especially through the hit "I got loaded".
Through his second album, released on Rhythm Bomb Records in 2017, the European Rockin 'Scene became increasingly aware of him and so followed some festival appearances.
Now his way leads him to Berlin for the first time and we can look forward to a brilliant show by the excellent entertainer.
Tennessee Rhythm Riders
Auch diesmal werden die Fans des Hillbillys und Western Swings auf dem Berlin Shake nicht zu kurz kommen, denn mit den Tennessee Rhythm Riders ist es gelungen, einen der Top Acts dieser Musikrichtung aus dem Vereinigten Königreich nach Berlin zu lotsen.
Gegründet von Lynette und Phil Morgan, hat sich die Band dem Sound der Maddox Bros., der Collins Kids und Bob Wills verschrieben und veröffentlichte 1999 und 2003 ihre zwei Alben. Anschließend ging es unter dem Namen Lynette Morgan & The Blackwater Valley Boys weiter, die in 2004 und 2016 ebenfalls Albumveröffentlichungen hatten. Aber egal, welche Songs wir hören werden, mit Lynette an den Lead Vocals wird der Ballroom zum Honky Tonk.
Also Cowboys, sattelt die Pferde und macht sonntags Halt beim Berlin Shake!
---
Once again fans of the Hillbilly and Western Swings will not miss out on the Berlin Shake, as with the Tennessee Rhythm Riders we have managed to guide one of the top acts of this genre from the UK to Berlin.
Founded by Lynette and Phil Morgan, the band has dedicated itself to the sound of Maddox Bros., Collins Kids and Bob Wills and released their two albums in 1999 and 2003. Then it went on under the name of Lynette Morgan & The Blackwater Valley Boys, who also had album releases in 2004 and 2016. But no matter what songs we're going to hear, with Lynette on the lead vocals, the ballroom becomes a real honky tonk.
So cowboys saddle up the horses and stop at the Berlin Shake on Sundays!
Ray Black & the Flying Carpets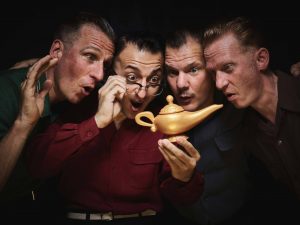 Ray Black & The Flying Carpets widmen sich voll und ganz dem ungehobelten, ehrlichen Sound des frühen Rockabilly. Jedoch schrecken die vier Jungs  auch vor sorgfältig ausgesuchtem Garage Sound der 60s nicht zurück, den sie als Turboeinspritzung für ihren eigenen, eher authentischen Rockabilly Sound nutzen.
Das Ergebnis ist eine hoch ansteckende Performance, die sofort ins Blut geht und zeigt, wie sie sich kompromisslos dem Ganzen auf jeder Bühne hingeben, die sie betreten.
Die Band kommt aus Stuttgart und hat schon die gesamte Republik bespielt, aber auch in Österreich, der Schweiz und Frankreich sind sie inzwischen immer häufiger zu sehen. Jetzt kommen sie nach Berlin und eröffnen den Sonntagabend!
---
Ray Black & The Flying Carpets are totally devoted to the raw and honest sound of early Rockabilly. Still these guys are not afraid of critically selected garage songs from the 60s, which they translate into their own style and use them as a fuel injection for their mainly authentic Rockabilly sound.
The outcome is a highly driven performance and shows the uncompromising dedication of the four band members to what they do, on every stage they hit.
The band is based in Stuttgart (Germany), but has played all over the country as well as in Austria, Switzerland and in France. Now they're in Berlin for the first time and will open the Sunday night!