Johnny Bach & the Moonshine Boozers
Johnny Bach and the Moonshine Boozers schlugen ein wie eine Bombe als sie 1996 ihre Debüt 10″ "Feelin' No Pain" auf Crazy Gator Records veröffentlichten. "The Mill" wurde auf Anhieb zum Clubhit und ist bis heute nicht mehr aus den Rock'n'Roll Clubs dieser Welt wegzudenken.
Kein Geringerer als John Lewis, seines Zeichens Frontman der legendären Rimshots, hatte sich hier auf die Pfade des durchgedrehten Rockabilly begeben und mit Darrel Higham an seiner Seite einen der Top-Gitarreros der Szene.
Zusammen haben sie bislang vier Alben herausgebracht und wenn sie live unterwegs sind, bleibt kein Stein auf dem anderen. Für den üblichen Berlin Shake "Freakout" am Freitagabend ist also gesorgt, wenn die Band und das Publikum sich gegenseitig zu Höchstform antreiben werden.
---
Johnny Bach and the Moonshine Boozers hit like a bomb when they released their debut 10″ "Feelin' No Pain" on Crazy Gator Records in 1996. "The Mill" immediately became a club hit and is still an integral part of rock'n'roll clubs around the world.
None other than John Lewis, frontman of the legendary Rimshots, had followed the paths of crazy Rockabilly and with Darrel Higham he has one of the scene's top guitar players on his side.

Together they have released four albums so far and when they perform live, no stone is left on the other. So the usual Berlin Shake "Freakout" on Friday evening is prepared when the band and the audience will drive each other to top form.
Barny & the Rhythm All Stars
Barny da Silva, Sohn des leider viel zu früh von uns gegangenen Carl da Silva, ist in die großen Fußstapfen seines Vaters gestiegen … und füllt sie großartig aus. Zusammen mit den Rhythm All Stars hält er nicht nur die fantastische Musik dieser Band am Leben, sondern bringt sie mit seinen Gesangsqualitäten und seiner wilden Show zudem auf ein neues Level.
Barny ist ein Teil der neuen, jungen Generation an Musikern, die frisches Blut in die Szene bringen und damit helfen, dass unser geliebter Rock'n'Roll so schnell nicht aussterben wird. Wir freuen uns diese jungen Wilden mit unseren Bookings unterstützen zu können.
2016 haben sie ihre erste Single im neuen Line Up auf ihrem Heimatlabel Wild Records veröffentlicht, die sie mit Sicherheit im Gepäck haben werden.
---
Barny da Silva, son of Carl da Silva, who unfortunately left us far too early, has followed in his father's footsteps … and fills them out magnificently. Together with the Rhythm All Stars he not only keeps the fantastic music of this band alive, but brings it to a new level with his vocal qualities and his wild show.
Barny is part of the new, young generation of musicians who bring fresh blood to the scene and help our beloved Rock'n'Roll not to die out. We are happy to support these young and wild guys with our bookings.
In 2016 they released their first single in the new line up on their home label Wild Records, which they will certainly carry with them.
Cat Lee King & his Cocks
Der Name dieses Rockin' Blues Quintetts wird so manchem Engländer einen schlüpfrigen Herrenwitz entlocken. Doch nicht nur der Name fällt auf, denn diese Band ist jung, authentisch und extrem begabt. Frontmann Cat Lee King sorgte bereits bei mehreren Formationen mit seiner bluesigen Reibeisenstimme und seinem flinken Pianospiel für Furore. Seit 2014 widmet er sich aber vor allem seinem Hauptprojekt "Cat Lee King and his Cocks".
Die Roots dieser Band sind vor allem schwarz. Zu den wichtigsten musikalischen Vorbildern zählen Größen wie T-Bone Walker, Wyonnie Harris, Ray Charles, Otis Spann, Muddy Waters und BB King. Coverversionen wie Don & Deweys Farmer John, Herby Joes Smokestack Lightnin' oder Chuck Berrys Brown Eyed Handsome Man wechseln sich in Ihren Sets mit ner Menge eigener Songs ab, die durch die Reihe weg klingen, als wären sie in irgendwo zwischen Texas, Chicago und New York in den Jahren zwischen 1949 und 1960 entstanden.
Anders als viele Bands in diesem Genre verzichten Cat Lee King and his Cocks aber auf Trompete, Saxophone & Co.. Stattdessen überzeugt ihr Rhythm & Blues neben dem Piano mit zwei messerscharfen Gitarren und treibenden Bass/Drum-Rhythmus. Verantwortlich dafür sind Tommy J. Croole (Leadguitar), Sidney Ramone (Rhythmguitar), LuckyLuciano (Kontrabass) und Rene Lieutenant (Drums). Alle fünf sind in den frühen 20ern und haben bereits einiges erreicht (u.a. beim Rhythm Riot in Camber Sands/England). Doch sie haben noch viel mehr vor!
How many Cocks does Cat Lee King have? Go on & find out yourself!
(F. Schütze/ Witchcraft International)
---
The name of this Rockin' Blues Quintet will elicit a juicy joke from most English speaking people. But not only the name stands out, as this band is young, authentic and extremely talented. Frontman Cat Lee King has already caused a furore with several other projects with his bluesy grater voice and his nimble piano playing. Since 2014, however, he has dedicated himself above all to his main project "Cat Lee King and his Cocks".
The roots of this band are mainly black. Among the most important musical role models are greats like T-Bone Walker, Wyonnie Harris, Ray Charles, Otis Spann, Muddy Waters and BB King. Cover versions like Don & Dewey's Farmer John, Herby Joe's Smokestack Lightnin' or Chuck Berry's Brown Eyed Handsome Man alternate in their sets with a lot of original songs that sound like they were written somewhere between Texas, Chicago and New York between 1949 and 1960.
Unlike many other bands in this genre, Cat Lee King and his Cocks play without trumpet, saxophone & co. Instead their Rhythm & Blues convinces beside the piano with two razor sharp guitars and driving bass/drum rhythm. Responsible for this are Tommy J. Croole (lead guitar), Sidney Ramone (rhythm guitar), LuckyLuciano (double bass) and Rene Lieutenant (drums). All five are in the early 20s and have already achieved a lot (e.g. at Rhythm Riot in Camber Sands/England). But they have much more in mind!
How many Cocks does Cat Lee King have? Go on & find out yourself!
(F. Schütze/ Witchcraft International)
Louisville Boppers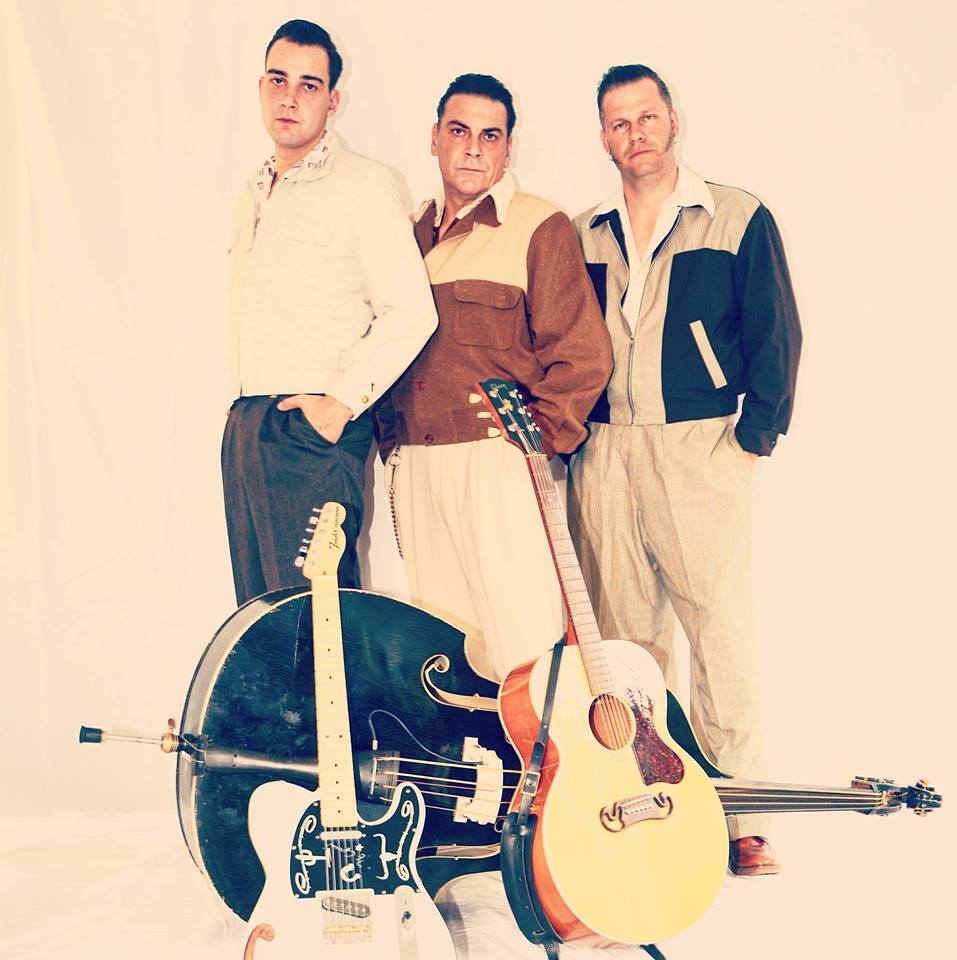 Die Louisville Boppers aus Friedrichshafen formierten sich im Jahre 2010, als sich die Liebe zum Rockabilly in dem Wunsch äußerte, diese Sound selbst zu spielen. Nach sieben erfolgreichen Jahren wurden das einzigartige Vater & Sohn-Gespann Tom & Fabi 2017 durch Marshall am Bass ergänzt.
Die meist selbst komponierten Songs erinnern an dem stampfenden, rauen Beat der mid-50's SUN Records, sind jedoch stets mit einer individuellen Note versehen, was der Band einen eigenständigen, authentischen Charakter verleiht.
Nach "Louisville Nights" erschienen 2018 das Album "Howlin' to the Moonlight" auf PART Records sowie eine 7″ Auskopplung auf MIGRAINE Records. Nun haben sie ihr Berlin Debut und freuen sich bereits sehr, als Opener des Festivals die Bühne umgehend zum Brennen und den Dancefloor zum Vibrieren zu bringen.
---
The Louisville Boppers from Friedrichshafen, GER were formed in 2010, when their love for Rockabilly expressed itself in the desire to play this sound themselves. After seven successful years, the unique father and son formation Tom & Fabi were joined by Marshall on bass in 2017.
The mostly self-composed songs are reminiscent of the stomping, rough beat of the mid-50's SUN Records, but are always provided with an individual note, which gives the band an independent, authentic character.
After "Louisville Nights" the album "Howlin' to the Moonlight" was released in 2018 on PART Records and a 7″ release on MIGRAINE Records. Now they have their Berlin debut and are already looking forward to get the stage burning and the dancefloor vibrating as openers of the festival.
Hi-Winders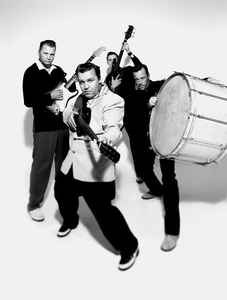 Die Hi-Winders werden den zweiten Abend des Berlin Shakes beschließen. Mit Frontmann Jan Svensson, im normalen Leben Sänger bei Wildfire Willie and the Ramblers, steht ein ganz großer Charakter der Szene auf der Bühne und wird wie üblich kein Auge trocken lassen mit seiner wilden Show.
Die vier Schweden liefern high-octane Rock'n'Roll der späten 50er, frühen 60er Jahre. Bereits 1994 veröffentlichten sie ihre ersten zwei Singles. Vier weitere und ein Album folgten und ebneten damit den Weg in die Top-Riege der Modern Rock'n'Roll Bands.
Vor den Hi-Winders spielen die Sureshots. Wir hoffen inständig, dass die Backstage Party erst nach dem Auftritt ausartet … 😉
---
The Hi-Winders will conclude the second evening of the Berlin Shake. With frontman Jan Svensson, in normal life singer of Wildfire Willie and the Ramblers, a very big character of the scene hits the stage and – as usual – he will not leave a dry eye with his wild show.
The four Swedes deliver high-octane rock'n'roll of the late 50s, early 60s. Already in 1994 they released their first two singles. Four more and one album followed, paving the way for the band to become one of the top band in the Modern Rock'n'Roll circuit.
This night the Sureshots play before the Hi-Winders. We sincerely hope that the backstage party doesn't degenerate until after the gig … 😉
Sureshots
Die Sureshots sind bereits seit den Achtzigern gemeinsam unterwegs. 1987 veröffentlichten sie ihr erstes Album und sind seitdem nicht mehr wegzudenken aus der Rockabilly-Szene. Gary Allen's unverwechselbare Stimme und Joe Guillan's grandioses Gitarrenspiel stehen seit eh und je für ganz großes Tennis.
Zusammen mit Wildfire Willie und den Rimshots gingen sie im Winter 1998 auf die legendäre "Rock-A-Billy Heaven"-Tour. Nun … Jan Svensson ist am Samstag ebenfalls anwesend. Und vielleicht verlängert John Lewis seinen Aufenthalt ja ebenfalls … wer weiß, was da auf uns zukommt.
Wie auch immer, die Sureshots werden gentlemen-like aber auch immer mit einem Drink in der Hand, eine famose Show abliefern und den Heimathafen zum Feiern bringen.
---
The sureshots have been on the road together since the eighties. They released their first album in 1987 and have been an integral part of the Rockabilly scene ever since. Gary Allen's unmistakable voice and Joe Guillan's grandiose guitar playing have always been outstanding.
Together with Wildfire Willie and the Rimshots they went on the legendary "Rock-A-Billy Heaven"-Tour in winter 1998. Well … Jan Svensson will also be present on Saturday. And maybe John Lewis will extend his stay as well … who knows what is coming our way.
Anyway, the sureshots will deliver a great show … always gentlemen-like and with a drink in their hands.
Roy Thompson & his Mellow Kings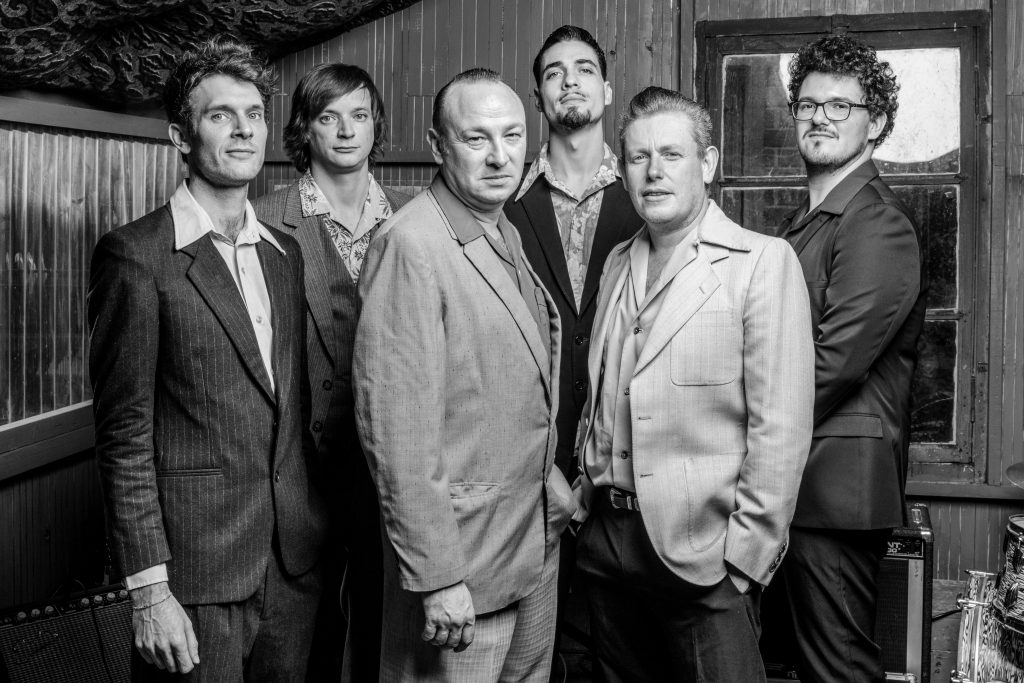 Roy Thompson & The Mellow Kings wurden 2010 gegründet und sind seitdem regelmäßig auf Tour.
Ihre Einflüsse in der Musik sind ziemlich breit gefächert: Blues, Rhythm'n'Blues, Swing und Rockin' Muisc der 50er bis zum Anfang der 60er Jahre. Beeinflusst sind sie von Künstlern wie Ike Turner, Ray Charles, T-Bone Walker, Larry Williams, Little Richard, Young Jessie, Junior Watson, Bobby Blue Bland and the Memphis-Sound, Freddie King, Johnny Otis, Guitar Junior und den Louisiana Style … zudem haben sie viele selbst komponierte Songs, die ihre Shows abrunden.
Ihr Stil reicht von spätem 50er Jahre Rhythm'n'Blues bis zu Anfang 60er Jahre Blues & Rockin', mit einer rockigen Atmosphäre, einer sizzlin' Gitarre und einem kraftvollen Saxophon!
---
Formed in 2010, Roy Thompson & the Mellow Kings have become a steady touring band since.
Their influences in music are pretty much wide in a range of Blues, Rhythm'n'Blues, Swing and Rockin' Music from the 50's to the early 60's, referencing themselves to artists such as Ike Turner, Ray Charles, T-Bone Walker, Larry Williams, Little Richard, Young Jessie, Junior Watson, Bobby Blue Bland and the Memphis sound, Freddie King, Johnny Otis, Guitar Junior and the Louisiana Style … plus lots of self-penned songs that accurate their shows.
Their style is heading from a late 50's Rhythm & Blues to an early 60's Blues & Rockin' tempo, with a rockin' and kickin' atmosphere, a sizzlin' guitar and powerful Sax!
Rampage
Eine neue junge Band aus Großbritannien, die wilden Rockabilly und Rock'n'Roll spielt – frisch und aufregend.
Diese drei Cats sind aktuell eine der überraschendsten Bands der Rockin' Scene. Sie haben die Besucher des Rockabilly Raves 2019 mit einem mehr als erfrischenden Set begeistert.
Wir sind gespannt, wie sie das beim Berlin Shake übertreffen werden – ein pefekter Start in den Samstagabend.
---
A new hot young band from the UK playing wild and crazy rockabilly and rock n roll – fresh and exciting.
These cats are one of the most surprising acts currently. They set the crowd at the 2019 Rockabilly Rave on fire with a far more than refreshing set.
Let's see how they will top this at the Berlin Shake. a perfect starter for a Saturday night.
Ray Collins' Hot-Club
Seit Jahren sind sie Top of the Pops wenn es um Swing und Rhythm'n'Blues aus deutschen landen geht. Einige der Bandmitglieder spielen bereits seit Ende der 80er Jahre zusammen und im Jahr 2000 beschlossen sie schließlich, etwas Neues zu machen. Den großen Durchbruch hatte die Band dann bereits im Jahre 2001, als sie am Samstagabend als Headliner das Rhythm Riot! in Großbritannien spielte.
2004 erhielten sie dann einen Anruf des deutschen Schauspielers Til Schweiger, der sie für seinen nächsten Film "Barfuss" engagierte. Die Band lieferte zwei Songs, darunter den Titelsong "Barefoot" und eine Live-Performance von "Shaking That Boogie".
Bis heute haben sie zahllose Shows gespielt und ein Ende ist nicht absehbar. Wer das jedoch noch nicht live erlebt hat, darf den Auftritt beim Berlin Shake nicht verpassen. Kein Fuß steht hier still, wenn die Band zum Tanz aufspielt. Ein perfekter Abschluss für ein großes Festival.
---
For years they have been Top of the Pops when it comes to Swing and Rhythm'n'Blues from Germany. Some of the bandmembers have been playin' around together since the late 80s and in 2000 they decided to do something new. The band had its big breakthrough in 2001 when they played the Rhythm Riot! in the UK as headliner on Saturday night.
In 2004 they got a phone call by German actor Til Schweiger who invited them to appear in his next movie "Barfuss" which should become a big hit in Germany. The band provided two songs including the title song "Barefoot" and a live performance of "Shaking That Boogie".
Until today they have played countless shows and there is no end in sight. But if you haven't experienced it live yet, don't miss the gig at the Berlin Shake. No foot stands still here when the band plays to the dance. A perfect conclusion for a big festival.
Doel Brothers
Die Doel Brothers kommen aus England und bestehen aus David, Gordon und Tom Doel. Neben Drums und zwei Gitarren bringen sie zudem Bass und Steel Guitar mit.
Zuvor spielten sie schon mit den Western Aces, den Radio Ramblers und den Westernaires – diese Jungs wissen also wovon sie sprechen, wenn es um Rockabilly, Hillbilly und Western Bop geht.
Mit vier veröffentlichten Alben in den letzten sechs Jahren sind sie definitiv eine der fleißigsten Bands und auch live sind sie gern gesehene Gäste auf den kleinen und großen Bühnen der Rock'n'Roll Welt. Und nun endlich auch mal in Berlin.
Freut euch auf heißes Saloon-Feeling, setzt euren Cowboyhut auf und ölt eure Kehlen für ein schepperndes "Yeehaw"!!!
---
The Doel Brothers come from England and are David, Gordon and Tom Doel. Besides drums and two guitars they also bring bass and steel guitar. 
They previously played with the Western Aces, the Radio Ramblers, the Westernaires so these guys know what they're talking about when it comes to Rockabilly, Hillbilly and Western Bop.
With four albums released in the last six years, they are definitely one of the most hard-working bands and live they are also welcome guests on the small and big stages of the Rock'n'Roll world. And now finally also in Berlin.
Look forward to a hot saloon feeling, put on your cowboy hat and oil your throats for a clattering "Yeehaw"!!!
Nite Howlers
Die 2016 gegründete französische Combo setzt sich zusammen aus erfahrenen Musikern der Rockin' Szene und ist inspiriert vom Rockabilly der späten 50er / frühen 60er Jahre und glänzt mit einer kraftvollen Gitarre und einer zuverlässigen Rhythmussektion.
Die Band ist hauptsächlich von Künstlern dieser Periode wie Benny Joy, Carl Perkins, Ronnie Dawson, Charlie Feathers beeinflusst. Aber auch viele andere weniger bekannte Bands, die in dieser Zeit die amerikanische Musik prägten, gehen nicht spurlos an den vier Jungs vorbei.
Auch sie feiern ihr Berlin Debüt, welches sicher noch lange in Erinnerung bleiben wird.
---
This French combo, created in 2016, consisting of well experienced musicians from the Rockin' scene, and inspired by the genre of Rockabilly music from the late 50's / early 60's era with a powerful guitar and steady rhythm section.
The band is mainly influenced by artists of this period such as Benny Joy, Carl Perkins, Ronnie Dawson, Charlie Feathers. But also many other less known and desperate bands who took part of American music during that period don't leave the four boys untouched.
They are also celebrating their Berlin debut, which will surely be remembered for a long time to come.
Lil' Lew's Noisy Bunch
Lil' Lew ist ein weiterer Vertreter der jungen Wilden. Auch er tritt in die Fußstapfen seines Vaters Wayne Starday, seines Zeichens Sänger von Desperado 5 und Wayne Starday's Trailer Kings.
Beim Berlin Shake stehen sie als Noisy Bunch gemeinsam auf der Bühne, unterstützt von weiteren illustren Berliner Musikern, die ihr Handwerk verstehen.
Rockabilly der ganz feinen Art, gepaart mit der Unverbrauchtheit von Lil' Lew, verspricht einen perfekten Start in den letzten Festivaltag. Eine Band die man nicht verpassen sollte, wenn man sich für frischen Wind in der Szene interessiert.
---
Lil' Lew is another representative of the new young and wild rockers. He also follows in the footsteps of his father Wayne Starday, singer of Desperado 5 and Wayne Starday's Trailer Kings.
At the Berlin Shake they will be on stage together as Noisy Bunch, supported by other illustrious Berlin musicians who understand their craft.
Rockabilly of the very fine kind, coupled with the unspent nature of Lil' Lew, promises a perfect start to the last day of the festival. A band not to be missed if you are interested in the scene's youngsters.